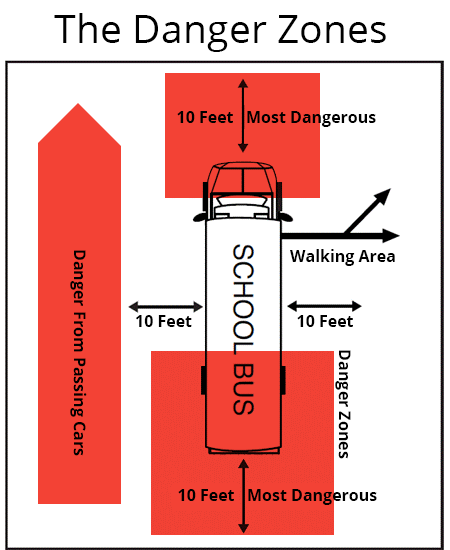 Stay out of the danger zone at all times! No one should ever enter the DANGER ZONE unless they're absolutely sure the driver has given them permission to do so.


If you drop anything in the danger zone, leave it. Never stop to pick it up! If possible, speak with your driver about retrieving the item.


If you can touch the bus, you are too close!


Using the "10 Giant Steps" rule is a good way to identify the DANGER ZONE around the school bus, particularly when crossing in front of the bus.


Always make sure you have the attention of the school bus driver when you're near the bus (approaching or leaving).


No one should ever play around or near school buses, or other motorized vehicles.


When leaving the bus, walk directly home.


Remember: if you can't see the driver, the driver can't see you!


Never walk or play behind any vehicle!
The DANGER ZONE image on this page as well as additional safety tips can be found on the School Bus Safety Smarts page of the Ontario Ministry of Transportation website.